Viet Nam's National Lung Hospital is the country`s largest hospital to treat tuberculosis and lung disease related diseases.
With 995 beds and 40 divisions, the hospital provides health care services for thousands of people every month. The hospital`s management understands its vital role in ensuring human health and well-being. However, they are also aware of the negative impact that the health sector can have on human and environmental health.
IMPACT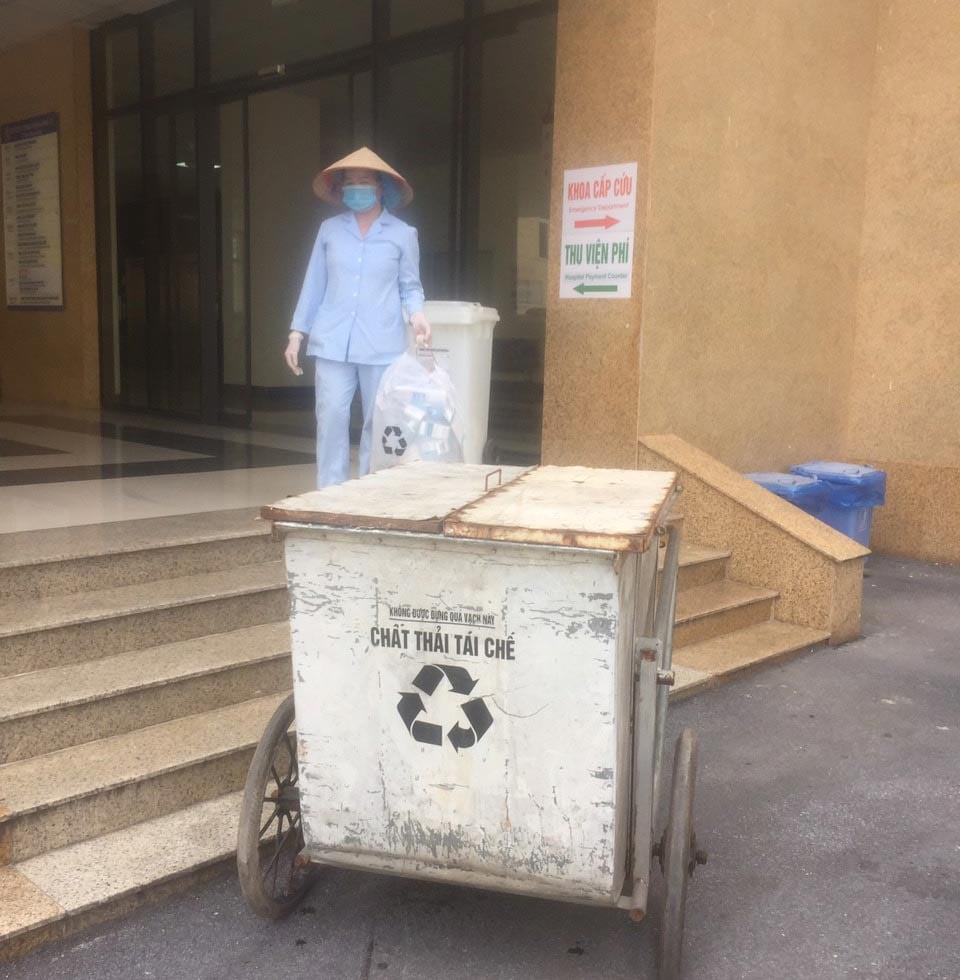 2021 © UNDP Viet Nam
To address the adverse effects of the health sector on the environment, the hospital started reducing plastic waste by adopting environmentally-friendly green procurement procedures.
These measures were introduced prior to the Prime Minister's 2019 adoption of the "plastic waste control movement." Currently, the hospital's procurement department is aiming to replace hazardous products. The annual procurement plans set out principles with a roadmap that provides a step-by-step substitution of unsafe commodities. These principles include procurement of environmentallyfriendly waste bags, utilising IT technology in X-ray diagnosis without film printing, introducing electronic thermometers, eliminating plastic cups, using inox food trays, as well as reducing printing and paperwork.
The environmental activities have been proactively carried out by the National Lung Hospital even before the specific directions of the Ministry of Health. It is good to see that our mindset is pertinent to the global and national goals of Viet Nam.
- A.P. Dr. Vu Xuan Phu, Deputy Director-General of the National Lung Hospital
Stories
"The National Lung Hospital had proactively carried out activities promoting environmental protection even before specific directives were introduced by the Health Ministry," says A.P. Dr. Vu Xuan Phu, who has been spearheading green procurement efforts as the National Lung Hospital. It's good to see that our mindset is relevant to Viet Nam`s international and national goals.
However, there have been challenges. According to Dr. Phu, several single-use plastic medical commodities, such as syringes and infusion tubes, do not have superior alternatives that are sustainable. In addition, not all environmentally sustainable products are commonly available on the market. Dr. Phu also emphasises the necessity to integrate products for environmental procurement within the production and supply chain. Furthermore, there are issues related to costs that must be taken into account. Environmentally-friendly alternatives to hazardous medical products can cause an added financial burden for hospitals.
11,750 kgs of plastic bags, 1,025,000 pieces of syringes, 407,000 fluid transfusion plastic bottles, 324,000 X-ray films, 220,000 plastic cups for lab testing, and 11,850 aerosol and ventilator masks are used every year at Viet Nam's National Lung Hospital.
IMPACT
By implementing the SHiPP in Viet Nam, Dr. Phu and his staff at the National Lung Hospital have been organising a series of advocacy activities to share the lessons learned from the project`s activities. Dr. Phu also frequently participates as a key speaker in training workshops on health and sustainable procurement in order to share his hospital's best practices.